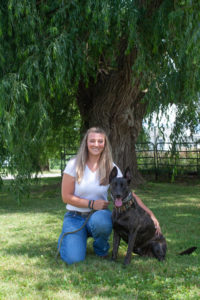 Missy Mattie
Missy Mattie has been with Mandak Veterinary Services since the spring of 2022. She is currently working on getting her veterinary technicians license online, while working as a veterinary assistant.
Missy grew up outside of Boston, MA, where she showed horses and played volleyball. She was the president of her local 4-H club growing up and completed a senior year internship at a veterinary clinic.
After high school Missy went to SUNY Cobleskill and studied pre-veterinary medicine with a concentration in animal science. She continued to play volleyball in college and competed on the Intercollegiate Stock Seat Team.
Missy always knew that her calling was to work with animals. She originally wanted to be a veterinary corps officer in the Army, but unfortunately was not able to pursue this dream due to health issues. Missy decided that still being able to work in the veterinary field was the next best thing.
Missy and her family, which includes her husband, Eric, and their daughter and son, raise Red Angus cattle and breed and train working dogs together. They also enjoy riding horses, camping, and fishing as a family.
In her free time Missy also enjoys gardening, canning, deep sea fishing and traveling.
Missy's pets include her three dogs, Beretta, a Dutch Shepherd, Honey, a Belgian Malinois, and Sarge, a hound mix, a house cat named Cookie, a barn cat, a Belgian Draft horse named Ted, a herd of registered red angus, turkeys, chickens, pigs, and sheep.
Advocating for the health of pets is Missy's favorite thing about working in the veterinary field. She enjoys helping the pets feel better by aiding in figuring out what is wrong with them.
Missy's favorite part about Mandak Vet is the family atmosphere. Everyone is so welcoming and works as a team, and she says that makes coming to work fun.