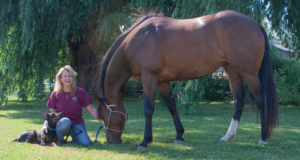 Dr. Teddy Smith
Dr. Teddy Smith, the owner of Mandak Veterinary Services, is the fourth generation born on the farm on Middleline Road where the clinic resides. She grew up there, learning everything there was to learn about life on the farm, which played a large part in starting the business.
Dr. Teddy remembers being four years old and watching their vet succeed at saving a cow and calf during a delivery. She knew right then and there that was what she wanted to do with her life.
Participating in the Saratoga County 4-H from a very young age, and all through high school, helped her gain priceless knowledge through the educational events. During that time, she also enjoyed showing English and Western in the horse shows.
After high school she went to Cornell University College of Ag and Life Sciences where she majored in animal science. From there she received early admission to Cornell University College of Veterinary Medicine.
Dr. Teddy helped put herself through her undergraduate studies and vet school by opening Mandak Stables. She gave horseback riding lessons, offered horse boarding, gave pony rides, and put on summer camps for kids.
Dr. Teddy graduated vet school in May of 1998, and in June she used the $5000 she got from family for graduation, to start Mandak Veterinary Services. The practice started as a mixed animal mobile practice, and she worked out of a small room attached to the indoor riding arena. The room doubled as a heated viewing room for parents watching their kids get riding lessons.
The first official clinic wasn't built until 2006 and has had various additions and expansions built since then, with the latest one happening in 2020. All the additions, however, have been built off the one room where she originally worked.
In 2015 Dr. Teddy continued her education to learn about chiropractic adjustment and spinal manipulation, and started integrating that into her knowledge and business. She did this because she knew there were cases that could be helped, but not without further knowledge and skills. Since then, she feels like she has really been able to help a lot of animals maintain their quality of life and comfort level much longer than with medication alone.
Dr. Teddy is most proud of her two extremely independent, strong, compassionate daughters who are currently chasing their dreams while college rodeoing and living in Stephenville, Texas. Both girls attend Tarleton State University. Shayne, 22, is currently getting her Master of Business Administration, and Sam, 21, is finishing her undergraduate studies, majoring in Agricultural Communications. While neither are following in their mothers' footsteps and becoming a vet, Dr. Teddy raised them to pave their own road and follow their hearts, and she is very proud they are sticking to that.
Dr. Teddy enjoys getting to spend as much time as she can alongside the love of her life and soulmate, Joe. The two of them, along with their Doberman puppy, Jackson, spend most of their free time traveling. When they are not working in the clinic, or around the farm, they enjoy camping, going to the beach, seeing new parts of the country, and visiting the girls in Texas. Dr. Teddy also enjoys reading books and riding horses.
Along with Jackson, Dr. Teddy also has the best barn cat, Loretta Lynn, a couple dozen freshwater fish, and three horses, Hope, Tia, and Promise, although Hope went back to college with Sam this year.
Dr. Teddy's favorite thing about the veterinary field is that she gets to combine two of her favorite things in the most perfect way—helping people and helping animals.
Her favorite thing about Mandak is the people who work here. They are not just employees; they have become closer than family in most cases and she truly enjoys going to work every day to work with such a great team.
Dr. Teddy has dedicated her life to building Mandak into what it is, and she is grateful for every client, pet and employee who has helped it succeed.