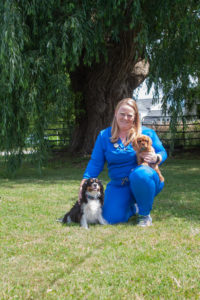 Dr. Heather Tillson
Dr. Heather Tillson, an associate veterinarian at Mandak Veterinary Services, has been with the practice since the fall of 2019.
Dr. Heather grew up locally, having been born and raised in Galway. After graduating high school, she did her undergraduate studies at the University of Tennessee at Martin as an animal science major.
She had worked at many vet clinics throughout high school and grew up with animals, so after doing an externship at a vet clinic following the completion of her undergrad, she knew she wanted to be a vet.
She attended vet school at Saint Georges University in Grenada West Indies, and did her clinical year at Cornell University. She then did a one-year internship at Rood and Riddle Saratoga, and went on to spend four years as an associate vet on the thoroughbred racetrack circuit in New York.
While Heather enjoyed what she was doing, she was getting to a point in her life when she wanted to be able to stay in one place and not have to move around to follow the racetrack. She was looking for a change of pace. And so, she found Mandak.
When she is not at work, Heather can be found spending time with her boyfriend, Chris, and her son, Noah. She enjoys cooking, baking, gardening, canning, and trap shooting. Heather and her sister Colleen also coach the Galway High School Trap Team together.
Heather has a wide variety of her own animals. She has two horses, Taco and Horoscope, one potbelly pig, Elenore Rigby, five dogs, Benson, Buddy, Avery, Ruby and Otis, three cats, Earl, Hoss, and Manny, one rabbit, Bad Bunny, and multiple chickens, ducks and fish.
Heather says her favorite thing about working in the veterinary field is the surgery and emergency medicine.
The family atmosphere of Mandak Vet is one of Heather's favorite things about her job. She appreciated that the clients are down to earth clients and willing to work with the vets and understand them.