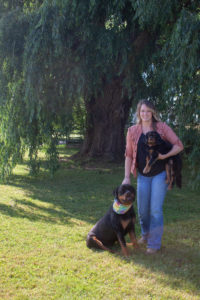 Heather Minett
Heather Minett, who has been with Mandak Veterinary Services since Dec. 2019, wears many hats here. While she is the head receptionist, she also handles most of the customer service tasks, assists Dr. Teddy and Suzanne on some management duties, and even occasionally works in the back as a veterinary assistant.
Heather grew up in Ballston Spa, and while she has always had animals, never really pictured herself working at a vet clinic. However, after being a client at Mandak for approximately 12 years, she applied for a job here. The laid-back atmosphere of the clinic always made her feel comfortable and drew her to want to work here.
Heather, along with her husband, Peter, and their son, Bryce, enjoy spending summers at their seasonal campsite swimming and spending time with their "camp" family, and they also vacation at the Outer Banks every year. In the winters they enjoy snowmobiling, and Bryce has taken a liking to dirt bikes as well.
Heather enjoys spending time with her horse Bonnie, and her dog Marleigh. She also has two cats named Jinglebell and Snowflake.
Her favorite part about working in the veterinary field has been helping animals live a happier, healthier life because of better nutrition. She enjoys helping owners come up with a better diet for their pets and finding out what their allergies are so they can be avoided.
She says her favorite part about Mandak is the atmosphere that the employees create and how they make coming to work everyday fun. Heather says Teddy is a fabulous boss and she is grateful for how she always makes sure family comes first.