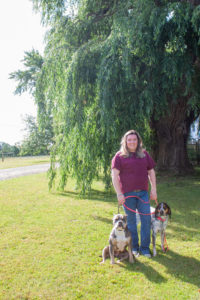 Krystal Koster
Krystal Koster has been a receptionist at Mandak Veterinary Services since Sept. 2016. She grew up locally, attending Burnt Hills—Ballston Lake high school, and later went on to Morrisville State College where she majored in Equine Science and Racing.
After graduation, Krystal, who was already a client at Mandak, thought she wanted to train Standardbred racehorses. However, after deciding that wasn't the industry for her, she was here for an appointment with her new puppy and asked if we were hiring. Fortunately, we were, and it worked out perfect for her.
She says the main reason she was drawn to work here was because all the staff was so friendly, and no one was pushy when it came to treatments or medications, which really stood out to her.
In her free time, Krystal enjoys riding her horse JoJo, hiking with her two dogs, Nova, a Pitbull, and Annie, a Blue Tick Coon Hound, and spending time camping at the lake with her family. Her family includes her fiancé, Steven, her parents, Terry and Cheyenne, and her sister Miranda. All the members of her family, including herself, are also involved with the Burnt Hills Fire Department. Along with her horse and her dogs, Krystal also has approximately twelve chickens that she enjoys raising.
Krystal's favorite part about working in the veterinary field has been the people she has met along the way, both clients and coworkers.
She loves how the Mandak family is truly just that—a family, and everyone always has each other's backs, whether it is at work or in life.