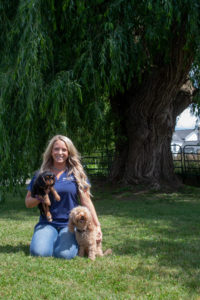 Lexie Brown
Lexie Brown has been a Licensed Veterinary Technician at Mandak Veterinary Services since 2011. Lexie grew up in Washington county with strong roots tying her to the agriculture industry.
Growing up she was involved in 4-H and FFA and raised all kinds of farm animals with her dad, her favorite being the pheasants they raised. To this day she is still involved with the Washington county 4-H and helps kids showing dairy cows.
After high school she attended SUNY Canton to get her vet tech license. Lexie had always had a special connection with all types of animals, and knew she wanted to use that to help both animals and people through her work.
When she obtained her license, she began looking for a job. Lexie knew she didn't want to work at a typical small animal practice, so when she saw the opening for a mixed animal clinic, she jumped on it.
Even though Mandak primarily focuses on small animals currently, Lexie says she enjoys that it is still a bunch of laid-back, small-town girls who all have ties to agriculture.
In Lexie's free time she enjoys spending time with her husband Buster. They enjoy working on their small farm in Johnsonville, going camping with their horses, going to music festivals and skiing and snowboarding across the U.S.
Lexie's pets include her two dogs, Georgi and Pavel, her three horses, Cruz, Willow, and TW, a mini donkey named Chocolate, and a few chickens.
It is safe to say that Lexie is in the perfect field for her because she has many favorite things about working in the veterinary field—she couldn't pick just one! Lexie feels that she has truly found her calling in life and couldn't be happier. She says that helping others makes her happy, and she gets to do that here, through her work.
Welcoming new pets and clients and helping them through the good times of their animals' lives makes her happy, but it comforts her to know that she can guide them to make the best decision for their pets at the end, and be a friend for the owners during a difficult time.
The core value of always supporting one another is what she enjoys most about working at Mandak Vet. She also loves the strong family vibe that all the staff has with one another.