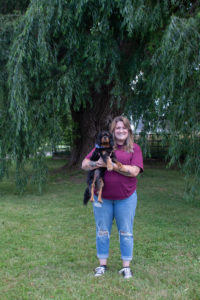 Magan Wittemeyer
Magan Wittemeyer started her career at Mandak Veterinary Services in Sept. 2011 as a Veterinary Assistant. Over the years she began working as a receptionist and is now the creative genius behind the business' social media pages.
Magan grew up in Ballston Spa, NY, where she attended Ballston Spa High School. Swimming and diving were passions of hers in high school. She taught swimming lessons and worked as a lifeguard for approximately eight years.
Animals have also always been one of her biggest passions and loves. As a kid, she was often found bartering with the neighbors to ride their horses and playing with people's pets rather than interacting with the owners. In high school she worked as a kennel assistant at a local clinic.
Magan's love for animals is what brought her to work in the veterinary field. She enjoys being able to help them in any way she can.
Magan's family includes her husband, Josh, and their three kids, Sadye, Knox, and Finn. They enjoy spending time outside and going camping as a family.
Magan also enjoys art and photography. Although she doesn't have as much free time as she used to for exploring her creative side, she still works on projects when she gets the chance.
Pets are typically in abundance at Magan's house, and if a client brings a pet to the clinic looking to give it away, there is a good chance it will go home with Magan.
Currently her family of furry friends consists of four dogs, Hubert, Tucker, Liza Jane, and Cheddar Biscuit, two cats, Maxie and Syrup, a Quarter Horse named Fred and a mini pony named Studley. Her family also has several chickens and fish.
Bringing awareness to preventable diseases and other topics through social media is what Magan enjoys most about her job.
Magan's favorite part about Mandak? Everything! Having a wonderful, understanding boss, great coworkers, and the best clients makes coming to work for enjoyable for Magan.