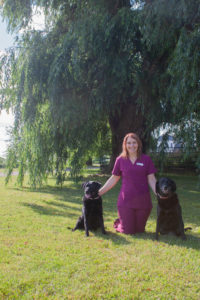 Rachel Millington
Rachel Millington has been a veterinary assistant with Mandak Veterinary Services since Jan. 2020. She is currently working on completing classes online to become a Licensed Veterinary Technician.
Rachel grew up in Glenville, NY, where she was homeschooled throughout grade school. After graduating, she attended Fulton-Montgomery Community College where she received an associate degree in business.
Growing up, Rachel was very active in Saratoga County 4-H. Her main focus and passion was in the equine part of 4-H, but she also participated in shooting sports, clothing and textiles, and Teen Council programs.
Rachel had the desire to be a vet tech from a young age. However, life took her down different paths initially. After having her daughter, Martina, in 2019, Rachel realized that to be content leaving her kiddo daily, she would have to really love her job. An opportunity arose to join the Mandak team, and Rachel says it has truly been a blessing ever since.
Rachel is proud to tell her daughter every day she is going to help the doctors make animals feel better. Martina, who is a little animal lover already, loves hearing about Rachels day when she gets home from work.
Rachel, her husband Tom, and their daughter enjoy spending time at their seasonal camp and sneaking in trail rides with their horses when they can. As a family they have what Rachel calls a "funny farm," consisting of a cow, pigs, and chickens that keeps them busy, but they truly enjoy caring for them.
Rachel also has three dogs, a St. Bernard mix named Mater and two black labs named Ellie and Lilly, two horses, Hudson and Kahlua, and two cats, Menchie and Patches.
Rachel enjoys working in the veterinary field because she gets to be there for the clients and their pets through the good times and the tough times. Like any true animal lover, Rachel says puppies and kittens certainly help make any day brighter.
The feeling of family is what Rachel loves the most about Mandak. Everyone is there with the same goal and that is something special.