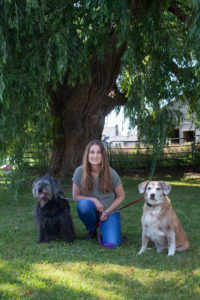 Dr. Sara Radigan
Dr. Sara Radigan has been an Associate Veterinarian at Mandak Veterinary Services since 2010.
She grew up in Stone Ridge, NY, and earned her Bachelor of Science in biology at Bates College in Lewiston, Maine.
After obtaining her bachelor's degree, Dr. Sara attended the University of Glasgow Veterinary School in Scotland, where she graduated with distinction in 2010. After graduation, she accepted the position at Mandak, and the rest is history.
Dr. Sara has always loved animals but chose veterinary medicine for many reasons. She knew it was a career that she could do anywhere, and that it allowed her to do many things within the profession without having to get another degree. She also knew that she would enjoy seeing something different every day and that being able to produce tangible results would help her know she is making a difference with her work.
Dr. Sara's favorite part about her job is getting to help the animals and their families. She says there is a sense of community surrounding the profession and she is happy to be a part of that.
She enjoys working with many species and donating her time to veterinary organizations in underdeveloped regions and countries. One of her favorite cases involved helping a baby rhino in South Africa.
Dr. Sara now lives in Saratoga Springs with her husband and daughter, their dogs, Riley and Rooster, and their cat, George. As a family they enjoy hiking, traveling, camping, and kayaking. She also enjoys playing volleyball, going to festivals, and doing anything crafty.
Dr. Sara says her favorite thing about Mandak is that it is like a family, and the clients are considered part of that family as well.