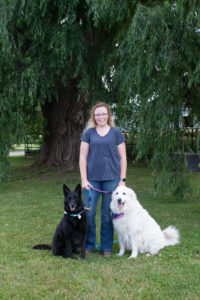 Sydney Kissinger
Sydney Kissinger has been a veterinary assistant at Mandak Veterinary Services since Feb. 2022. A lifetime love for animals made it clear to Sydney from a young age that she wanted to work in the veterinary field.
Born and raised in Galway, NY she explored her love for horses, riding whenever she could and always volunteering at neighboring horse farms. While attending Galway High School she studied Horse Care through the BOCES program they offered.
Sydney and her family love going on adventures together. Her family consists of her husband, Allan, and her two sons Easton and Kayden. Together they enjoy camping, boating, rebuilding cars, fishing, and horseback riding. Basically, if she is outdoors with family and friends, she is content and happy.
Her pets include her two dogs, Oiden a German Shepard mix, and Annie a Great Pyrenees, her three cats, Oreo, Cookie and Kilo, and her Quarter Horse, Mickey.
Helping animals is Sydney's favorite part of the veterinary field, but she also enjoys getting to know the pet parents that bring them in.
Sydney says her favorite part about Mandak is that they have treated her like part of the family since the very beginning, and she never worries about asking for help because she knows someone is always willing to lend a helping hand.